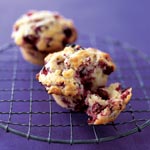 Nutritional Information
| | |
| --- | --- |
| Calories per serving: | 238 |
| Fat per serving: | 10g |
| Saturated fat per serving: | 2g |
| Monounsaturated fat per serving: | 2g |
| Polyunsaturated fat per serving: | 5g |
| Protein per serving: | 4g |
| Carbohydrates per serving: | 33g |
| Fiber per serving: | 1g |
| Cholesterol per serving: | 19mg |
| Iron per serving: | 1mg |
| Sodium per serving: | 186mg |
| Calcium per serving: | 97mg |
Cranberry-Citrus Muffins
Perp Time:

20 minutes

Cook Time:

33 minutes

Total Time:

Yield:

1 dozen (serving size: 1 muffin)
Ingredients
1 1/2 cups

chopped cranberries

2 cups

plus 2 tablespoons all-purpose flour

2/3 cup

granulated sugar

2 teaspoons

baking powder

1/2 teaspoon

salt

1/2 cup

vegetable oil

1/2 teaspoon

grated lemon rind

1/2 teaspoon

vanilla extract

2

large egg whites

1

(8-ounce) carton vanilla low-fat yogurt

1

large egg

Cooking spray

1 1/2 teaspoons

turbinado sugar or granulated sugar
Preparation
1. Preheat oven to 375°.
2. Combine cranberries and 2 tablespoons flour, tossing gently; set aside.
3. Lightly spoon 2 cups flour into dry measuring cups, and level with a knife. Combine flour, granulated sugar, baking powder, and salt in a large bowl. Whisk together oil and next 5 ingredients (through egg) in a medium bowl. Make a well in center of flour mixture; add oil mixture, stirring just until flour mixture is moist. Fold in cranberry mixture. Spoon the batter into 12 muffin cups coated with cooking spray. Sprinkle sugar evenly over muffins. Bake at 375° for 33 minutes.
4. Remove muffins from pans immediately, and place on a wire rack.